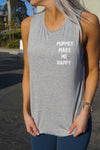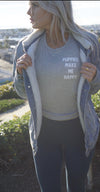 Our Motto PUPPIES MAKE ME HAPPY Printed Small over the Chest of our Best Selling Women's Sleeveless.
Printed on a custom cut-and-sew sleeveless shirt with the world's softest material ever made, our Puppies Soft Fabric. So Soft you will want to Pet Yourself
Designed to Be Pet.
SHIPPING
Most orders are processed and shipped within 2-3 business days from the time of purchase.
Custom orders take on average 2-3 weeks after photo submission.
Free shipping on orders over $60.
World Wide Shipping
RETURNS
Easy 30 days returns and exchanges.
Please contact our customer service to recieve and RMA number.Visit our FAQ for more information.